XD-040 Rotary Vane Vacuum Pumps (Without Motor) for CNC Machine
This model is XD-040, capacity is 40 m³/h, motor power is 1.5kw. Pump body and rotor material is cast iron, oil tank material is aluminum. It's used for CNC vacuum fixture. We also sell pump without motor.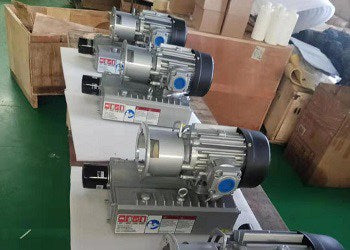 Other models: XD-010 (0.55kw), XD-020 (0.75kw), XD-025 (0.9kw), XD-063 (2.2kw), XD-100 (3kw), XD-160 (4.5kw), XD-202 (4.5kw), XD-250 (5.5kw), XD-302 (7.5kw).
We also manufacture and supply liquid ring vacuum pumps, centrifugal water pumps, roots vacuum pumps, if you have any demand, welcome to contact with our sales department for details.